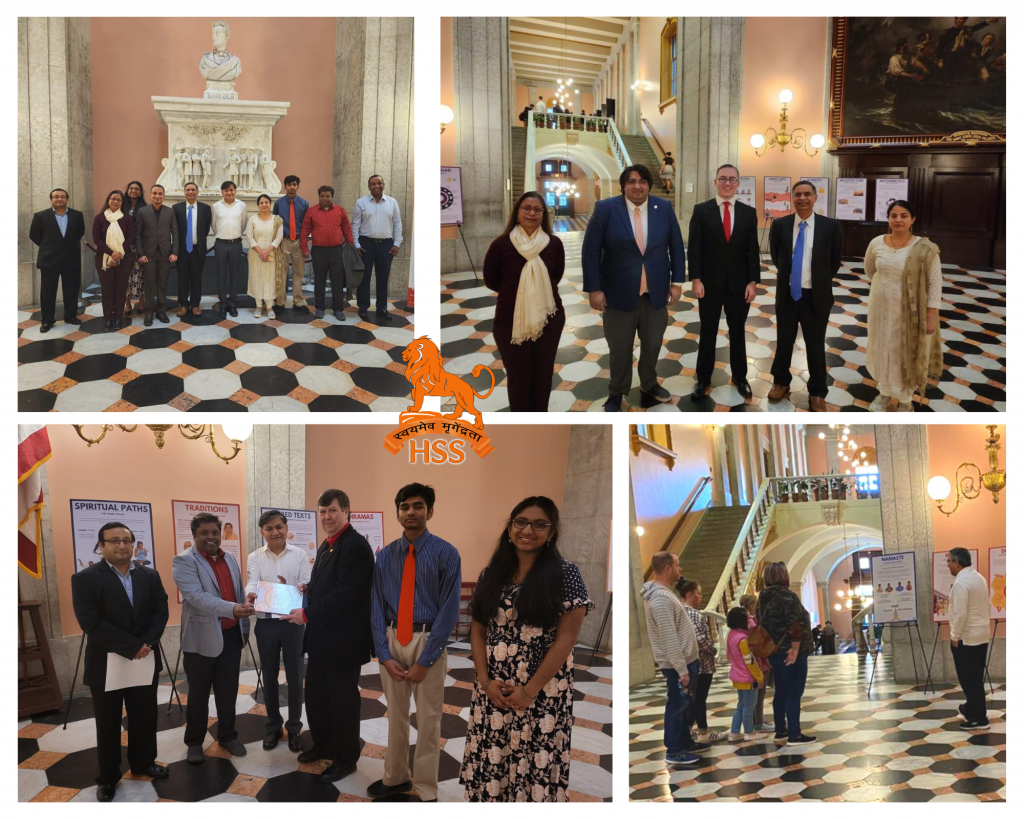 On February 22, 2023, Ohio State Senator by Niraj Antani appreciated Hindu Swayamsevak Sangh USA (HSS) and its volunteers on the Senate floor for their social work and for organizing the "Darshana – A Glimpse into the Hindu Civilization" exhibition (Darshana) at the Ohio Statehouse rotunda. While reading the proclamation on this special occasion, he also appreciated the richness and diversity of Hindu culture and its contributions to the world. The exhibition and resolution are expected to impact positively, promoting a greater understanding and appreciation of Hinduism and strengthening cultural ties between communities.
The exhibition offered a platform to explore a wide range of topics such as Yoga, Ayurveda, Dharma, Mathematics, Architecture, Arts, Sciences, and the present-day global presence of Hinduism. This exhibition is part of the Hindu Dharma Awareness Campaign and is successfully being displayed and welcomed nationwide. In the last four months, from April 2022, over 200 events have been organized nationwide to educate political, civic, educational, and interfaith leaders about Hindu Dharma, another term for Hinduism. The event is open to all and provides glimpses into the Hindu way of life.
Several elected officials and their staff visited the Darshana and appreciated this awareness campaign. State Senator Stephanie Kunze representing the 16th district, enjoyed learning more about healthy eastern ways to care for the body through healthy eating, exercise, and meditation. People visiting the State House on business also took an opportunity to visit the exhibition and learn more. Tod Bowen, Managing Director of External Affairs and Government Relations at Ohio Restaurant Association, appreciated his interaction with students presenting Darshana and the information the exhibition provided about Hindu culture, contributions, and practices.
While thanking the Elected officials of the Ohio State Senate, Mr. Sitaram Koppaka, President of HSS for Ohio, said, "Our idea was to reach out to the local communities across the United States and to bring awareness about Hindu philosophy and culture that the fellow Hindus in their neighborhood practice." In alignment with Mr. Koppaka's comment, this exhibition has traveled in 165 cities across the United States since the spring of 2022. It was enthusiastically received by a broad audience, including federal, state, and local government officials, judges, educators, business leaders, and ethnic, religious, and interfaith groups. The exhibition also attracted broad public participation.