Amrit Vachan
"It is the supreme virtue (of the householder) to fulfill his obligations to his ancestors, gods, guests, relatives and himself." -- Thirukkural
HSS Activity


From April 5th-6th 2013, 29 Yuvas from the northeast area gathered at Arsha Vidya Gurukulam in Saylorsburg, Pennsylvania for a two-day Hindu Youth Conference. The goal of this conference was to provide a platform for young people between the ages of 18-35 to socialize, share ideas, and get more in touch with their identity as Hindu Youth. Participants included some young working professionals, and students from Pennsylvania State University, Drexel University, Rutgers University, University of Massachusetts, Boston University, Northeastern University, and Columbia University. In total, there were 11 Yuva who were attending an HSS event for the first time. There was one new participant from New Jersey, two from New York, three from Pennsylvania, and five from Massachusetts.
Read more...
Press Release
Hindu Swayamsevak Sangh, USA (HSS) wishes you, your family and friends a happy, healthy and prosperous Varsha Pratipada,

beginning of Hindu New Year. Varsha Pratipada is also popularly known as Yugadi and corresponds to the Shalivahana Shaka in some part of Bharat and in the rest, it corresponds to the Vikrama Samvat, corresponding to the era beginning 78 A.D. and 57 B.C. respectively. This day recalls the inspiring occasion when the invading Sakas from Central Asia were vanquished by the great emperors Shalivahana and Vikramaditya in the 1st Century A.D.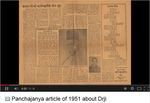 As a meaningful coincidence, the great founder of the Rashtriya Swayamsevak Sangh, Dr. Keshav Baliram Hedgewar, belovedly known as Doctorji, was also born on this very day of Yugadi in 1889. On this festive occasion let us take inspiration from these great souls.

This year is 125th year of Doctorji's birth year. We would like to share an audio recording of an article written in Hindi, on this great soul and the core Sangh principles, by Pujaneeya Swargeeya Balasaheb Deoras ji. (read more...)
HSS Activity


Despite unusual winter season, HSS volunteers continued several activities all across the US. Following is just a glimpse of activities.



Read more...

HSS Activity






Hindu Swayamsevak Sangh USA, Inc. (HSS) concluded its eighth annual "Health for Humanity Yogathon" on February 2nd, 2014. During the two-week Yogathon, thousands of participants across the United States participated in daily repetitions of the yoga routine known as the Sun Salutation, or Surya Namaskar. Several places also conducted Health for Humanity Yogathon or also called as Surya Namaskar Yajna Marathon.

HSS launched the Health for Humanity Yogathon as an annual event in 2007 to create awareness about yoga and its advantages in achieving a healthy body, mind, and spirit. The Surya Namaskar yoga routine integrates simple postures of well-balanced movements in ten steps with an easy breathing technique to provide immense health benefits for everyone, from beginners to yoga enthusiasts.





Read more...

Latest News



Hindu Swayamsevak Sangh USA concluded its yearlong festivities to celebrate Swami Vivekananda's 150th birth anniversary. 55000 participants participated in over 400 various events in 37 states.

A published report on these celebrations provides a glimpse on various events held from January to October 2013. It captures in words and pictures the nationwide success stories of our very unique children's competition "Dharma Bee," poster exhibition on Swami ji, campus activities by Hindu YUVA, culminating events of "Dharma and Yoga Fest," and more.

Read more...

Latest News
'My dear sisters and brothers of America' were the famous words that introduced Hindu Dharma to the West by Swami Vivekananda. In celebration of Swami Vivekananda's 150th birth anniversary, Hindu Swayamsevak Sangh USA Inc. (HSS) is taking initiative to organize day long Dharma & Yoga Fest throughout America during the months of August, September and October. Visit http://www.dharmaandyogafest.org for more information.
<< Start
< Prev
1
2
3
4
5
6
7
8
9
10
Next >
End >>
Results 1 - 12 of 138
Subscribe to our Newsletter
Email:

Swami Vivekananda Documentary - 2013