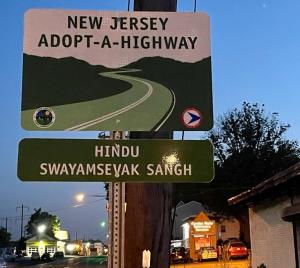 Hindu Swayamsevak Sangh USA (HSS USA) initiated several social services, also known as Sewa activities, starting Earth Day with a series of cleanup events across the country. More than 120+ Volunteers from various HSS USA branches participated in planned environmental-related activities to protect the earth. Some of the highlights of the celebrations:
Various cities adopted roads, Highways across the US. As part of cleaning efforts, these chapters cleaned the roads, and highways. Following are the highlights of this year's Earth Day Sewa activities.
* Adopt-A-Highway events in Naperville, IL, cleaned up about 4 miles of stretch of highway.
* Volunteers from Portland, OR cleaned up about 1-mile stretch of County Road.
* A Beach cleanup event was organized at Seal Beach, CA and about 30 HSS volunteers participated.
* HSS Volunteers helped in an annual spring trash off and cleanup event at Flowermound, TX.
* In New Jersey state, volunteers cleaned up parks as part of the earth day celebration. Additionally, HSS volunteers joined local Earth Day celebrations organized by Edison Health Department (NJ). Around 40 SS participated in this event.
* Branches of South Jersey chapter did a park clean up activity on April 15th to celebrate Earth day ! 16 KKs participated in this event.
Some of the HSS chapters also conducted other sewa activities:
* San Ramon, CA chapter organized a Blood donation camp and could donate 90 Units of blood.
* In Washington, HSS chapter organized a blood drive in Renton and about 31 Donors donated the blood.
Blood Donation camo at Dallas, TX partnering with other orgs.
HSS volunteers from Mountain House CA cleaned and planted a huge farming area in Amma Ashram in San Ramon, CA.
HSS Peoria chapter hosted its third annual book fair at Trewyn School offering more than 500 books.
Sewa activities is an integral part of HSS volunteerism. It helps HSS members to contribute to American society and help to get involved in selfless service.